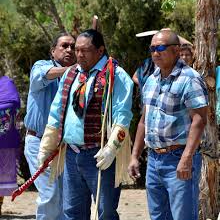 Ute Tribe Farm & Ranch Enterprises
Contact: Ute Mountain Ute Tribe
Address: 12500 UMU 201 Towaoc, CO, 81334
Email Address: orders@bcfm.org
About Us
Ute Mountain Ute Tribe Farm & Ranch Enterprise
is a 7,700 acre productive, modern irrigated agricultural project nestled below the Sleeping Ute Mountain on Ute Mountain Ute Tribe Land in the southwest corner of Colorado. State of the art equipment and modern technology are used to successfully operate this market-oriented agricultural enterprise.

At the base of the legendary Sleeping Ute Mountain, between the Four Corners National Monument and Mesa Verde National Park lies a beautiful reservation known as the Ute Mountain Ute Tribe.

In the desert lies a 7,700 acre irrigated farm owned and operated by the tribe. Established in 1962, the Bow and Arrow Brand now proudly produces safe, quality products to feed the family that you love.


Practices
As good stewards of the land, we practice sustainable farming and use state of the art technology to grow and mill our corn without GMOs. We raise cattle, alfalfa, and more. Our product is Certified Gluten Free and Non GMO Verified by the Non GMO Project.