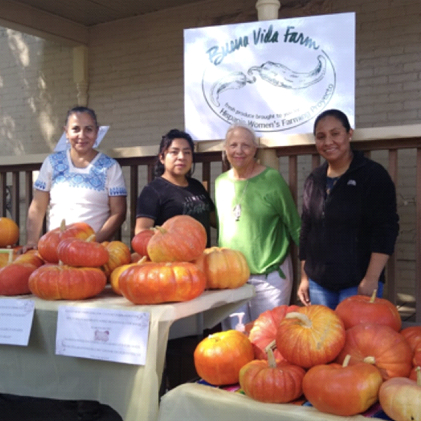 Buena Vida Farm (Hispanic Women's Farming Proyecto)
City: Fort Collins, CO,
Email Address: orders@bcfm.org
About Us
This project was conceptualized by MaryLou Smith of Buena Vida Farm, west of Windsor, as a way the farm can use its land and water to produce high quality vegetables for local benefit while providing opportunities for immigrant and refugee women to improve their employability and self-confidence. Based on what they learned from our 2020 pilot year they have designed a nonprofit professional development fellowship structure for the Hispanic Women's Farming Proyecto going forward. Their fiscal sponsor is Fort Collins Community Action Network.

OPPORTUNITY FOR IMMIGRANT/REFUGEE WOMEN Three to four women with keen interest in agriculture are accepted into the project and each are awarded a $3500 stipend. They meet one full day per week, May through October, to learn about agriculture while growing their own vegetables to sell. Volunteer experts teach them about soil and plant health, irrigation, simple bookkeeping, and marketing. They receive a certificate of completion to use for future job searches, and they keep the revenue they earn from selling their vegetables.


Practices
The women farmers make their own decisions about what to grow, including experimenting with some cultivars from their home countries, including Mexico and Guatemala. This year's crops include tomatoes, chiles, onions, cilantro (salsa makings!) as well as potatoes, eggplant, Guatemalan ayote winter squash, Guatemalan frijoles negros, watermelons, cucumbers and pumpkins. All vegetables are grown without herbicides or pesticides, with attention to soil health and water conservation.