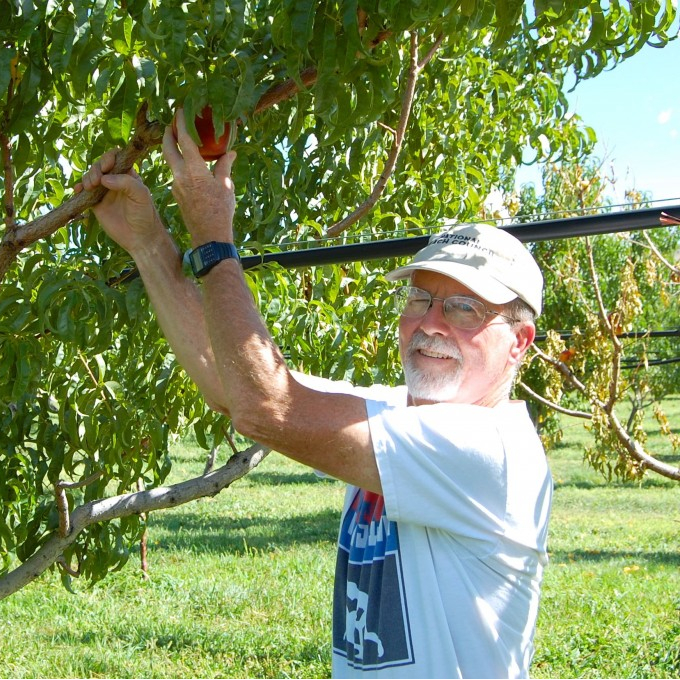 Morton's Organic Orchards
Contact: Heather Morton Burtness & Joe Burtness
Address: 3525 G Rd Palisade, CO, 81526
Email Address: orders@bcfm.org
About Us
Morton's Organic Orchards began in 1978, when David and Mary Morton purchased 10 acres of land in Palisade, Colorado. They designed and built a passive solar home and with the help of their two young daughters, they planted and grafted hundreds of apricot, peach and cherry trees. Funded entirely by their teaching careers, each long day of teaching gave way to farm chores – pruning, watering, and nurturing the crops. Summer breaks were spent harvesting and delivering their bounty to friends at schools along the Front Range.

In 1990, Mary and Dave purchased an adjacent 2 acres with a historic barn which they restored and repurposed for use as a packing shed. Now they and their kids could bring the harvest out of the hot fields and carefully sort, pack and cool their ripe fruit before driving it over the mountains. A couple years later, in 1992, the Mortons attended their first Boulder Farmers' Markets where they built lasting relationships with loyal customers, many of whom still support them today. It was a perfect fit for teachers who loved teaching (and learning) and customers who craved knowledge as much as tasty, nutritious fruit.

These weekly exchanges were rewarding and, as their well-informed customers began requesting clean/unsprayed fruit, Mary and Dave responded to their requests. So, in 1993, Morton's Orchards began the transition to Organic. By 1996, they were Certified Organic by the State of Colorado and again, in 1999, they were Certified Organic by the USDA. Inspired by their customers' encouragement, they became one of the first organic orchards in Palisade.

Over the years, learning along the way, Dave and Mary made significant changes in favor of agricultural sustainability. They added solar panels to power their packing shed and water pumps and propane gas replaced oil-burning smudge pots. Water efficient micro-irrigation systems were set up to hydrate trees and preserve soil ecology, while green cover crops eliminated tilling and soil erosion. Every change led to healthier farming and healthier lives for themselves and their customers.

Today, Morton's Organic Orchards is still a family owned farm. Three generations, on both sides of the Colorado Rocky Mountains, work together to grow and deliver our exceptional fruit to our local communities. Providing nutritious, ripe fruit that tastes sweet and juicy - the way we would want to eat it – is our main goal for our markets. Preserving the integrity of our land, air and water – so we may all be healthier – is our main goal in our lives. We continue to learn and explore responsible farming practices while we nourish our friends and families with the most delectable fruit in Colorado. We think the future looks sweet!
Practices
Certified Organic, environmentally responsible, water efficient and regenerative soil practices.