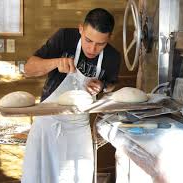 Breadworks
City: Boulder, CO, 80304
Email Address: orders@bcfm.org
Phone: 303-444-5667
About Us
Locally owned bakery and cafe that specializes in artisan bread and is famous for our soup and salad bar! Everything is made in house and baked fresh every day. From scones to sandwiches, gelato to gourmet a la carte lunch selections, we are sure to have something to satisfy any cravings!

Nearly 26 years ago, Larry Domnitz had the idea to open a neighborhood bakery in Boulder. On Valentine's Day 1995 Larry put his idea into action and BREADWORKS opened its doors as a retail artisan bread store. At that time our store was a quarter of its current size and only sold bread, breakfast pastries, and coffee. Every morning, seven days a week, 365 days a year, Larry came into the store by 3:00AM to bake the bread in our imported stone-hearth oven and to prepare for the store's opening at 7:00 AM. He then stayed and ran the business during the day.

After word got out about the high quality of our bread restaurants, cafes, and grocery stores began to order them. Larry embraced this opportunity and BREADWORKS grew into a wholesale business. Bread production more than doubled from less than 1000lbs to well over 2000lbs per day in just a few years, demanding an expansion of the store in order to keep up with the growing business. In 1999, Larry and his wife to be, Colleen Doran, doubled the size of the store, building a café, and adding a kitchen and a full pastry area. Colleen, an accomplished four star chef, settled into the role of Executive Chef and created all the delicious recipes we use today, including a collection of more than 200 fresh soup recipes which we continue to make throughout the year.

At the heart of BREADWORKS is a commitment to using only the freshest and highest quality ingredients. All of the flour in our Bread and Pastry items is 100% certified organic and we use other organic ingredients whenever possible. The quality, freshness and consistency of our products is our primary concern. Our Staff literally works around the clock to bring you the finest artisanal products and exceptional service. Larry arrives at our bakery every morning to ensure the bread, the heart of BREADWORKS, remains as exceptional as it was when we first opened.