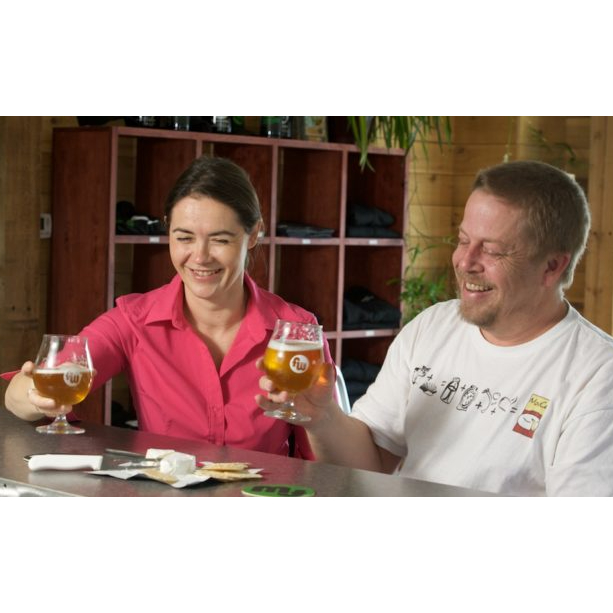 MouCou Cheese Company
City: Ft. Collins, CO,
Email Address: orders@bcfm.org
About Us
Our History
MouCo Cheese Company started crafting soft ripened cheese in July of 2001, and since then, we've been churning out wheels of cheese as fast as the Front Range can gobble them up.

But to really understand our company history, we have to take you a little further back in time. It starts, like so many good stories, as a love story…

Birgit Halbreiter grew up in Memmingen, Germany, a small town in Bavaria. She trained and worked for one of the world's largest soft-ripened cheese manufacturers, Käserei Champignon in the nearby city of Kempten. After leaving Germany, Birgit furthered her fermentation knowledge at Molson Breweries; as QA Manager and eventually as a member of the board of directors for New Belgium Brewing Company, one of the nation's fastest-growing brewing companies located in Fort Collins, Colorado. Here, Birgit met Robert Poland, who was working as New Belgium's fermentation manager.

Robert started out playing with Legos, in Boulder, Colorado where he also went to elementary school and was taught by the famous Charlie Papazian. His first experience with fermentation was going to Charlie's house, by public bus, to see his bathtub beer project. Charlie was so proud that he had discovered he could make better beer by covering the cast iron tub with plastic wrap during fermentation.

From there he thought he was going to be Eddie Van Halen for a few years, then he discovered snowboarding, there went a few years, and finally landed a job at an industrial French bakery. This re-sparked the interest in fermentation, which ended up leading him into homebrewing…Charlie, get it? The years continued to tick by, now winning homebrew competitions which led to the next job, New Belgium Brewing. After nearly ten years fermenting beer, it was time for a change…Soft Ripened Cheese here we come!

New Belgium was a trend setter when it came to environmental standards and community support and a few years before leaving the brewery, the pair began thinking of starting a soft ripened cheese company continuing these values and using their collective skill sets.

With the enlisted help of Birgit's father, Franz Halbreiter, a master cheese-maker living in Germany, they set off planning MouCo Cheese. In June of 2001 MouCo Cheese Company was born and made their first sale shortly afterward to Beavers Market in Fort Collins.

For the first 5 years, Franz acted as a consultant for MouCo cheese and spent about one month per year in Fort Collins, working with Robert on the art form of soft ripened cheese making.

Over the years we expanded our canvas of cheeses to include not only our traditional Camembert but also other unique cheeses such as a smear ripened cheese called ColoRouge as well as an ash cured cheese, Ashley.

We are still in love, after all these years, with making cheese and here's why:

…we have worked tirelessly to make great cheese while reducing our environmental impact, and hopefully, make everyone that we interact with happier by our existence.

…we have taught children how to make cheese, both having them to the cheesery as well a schlepping milk and culture to their class room.

…our cheese has been sought out for both the Democratic and Republican Conventions…in the same year… We have been served at the UN, and even have a picture of the Governor of Colorado enjoying a wheel.

…sometimes our cheese is available on International flights for your "across the pond" dining pleasure…(though, I don't think, I usually sit in that section.)

…we have been invited to be on TV, on the radio, in the newspaper and magazines alike.

…we can count some of the nation's top restaurants as our loyal customers. We are honored to have been served at places like the Brown Palace in Denver, the Ritz Carlton, Chimney Park in Windsor and Tender at the Luxor in Las Vegas.

…and….the coolest thing of all…cheese lovers like you have made us popular enough that we are now carried in major grocery stores such as Whole Foods and King Soopers as well as many others.

…like many great stories, ours continues on, thank you for loving our cheese!






Practices
If you haven't tried MouCo cheese, get ready for something special. Because our cheese is more than just cheese… it's stunningly soft, mouth-wateringly cravable, and palate-poppingly flavorful. It's an authentic, soft-ripened lineup that blends old-world Bavarian knowledge with a heavy dose of Colorado creativity. We know that once you try it, you'll be hooked. So go ahead, take a bite. But watch out… this might just change everything.